My Creamy Kale Scramble features tangy labneh, mild chives, and bright dill.
This meal is simple, quick, and satisfying; a hearty vegetarian meal will keep you fueled and ready to conquer your day!
IS IT NECESSARY TO USE KALE? CAN I USE SOMETHING ELSE?
Although this recipe calls for kale, you can definitely use spinach, chard, or arugula instead. Actually, you can swap out dark-leafy greens entirely and use another vegetable like diced bell peppers instead.
WHAT IS LABNEH?
Labneh is a Middle Eastern staple made by straining whey from whole milk yogurt with the help of salt and cheesecloth. It's soft texture is reminiscent of cream cheese but has more tang, along with the beneficial probiotics of cultured yogurt.
This yogurt cheese takes minimal effort to make from scratch and is an incredibly versatile ingredient to have in your kitchen. Did I mention this recipe calls for just one ingredient from the grocery store?
Use it as a base for a dip, stir into curries, add to scrambled eggs for extra-creaminess, slather on bread or a toasted bagel instead of cream cheese; I could go on and on and on.
Line a fine mesh strainer with several layers of cheesecloth or a linen napkin. Stir salt into the yogurt and pour into the lined strainer.
Set the strainer over a deep bowl so the whey has something to drip into. Twist the ends of the cheesecloth into a bundle; rest ends on top.
Place in the fridge and strain anywhere from 12 hour to 48+ hours.
Remove from the fridge every so often, pour out the whey, and give the cheesecloth a good wring to help speed up the process. The longer you strain the yogurt, the thicker your labneh will be.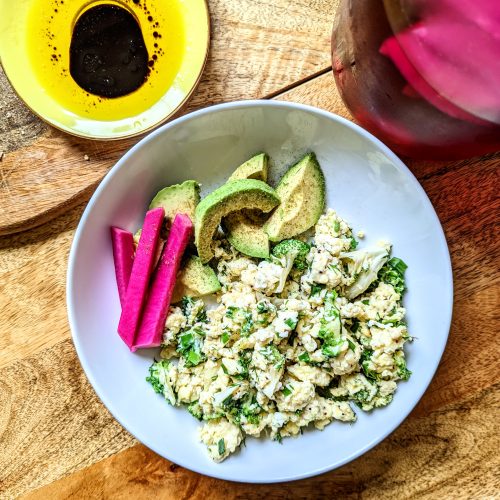 Creamy Kale Scramble
Quick, easy, and satisfying. This hearty vegetarian meal will keep you fueled and ready to conquer your day!
Equipment
1 10" – 12" non-stick skillet

1 medium bowl

1 fork

1 silicone spatula

or wooden spoon
Ingredients
1

tbsp

ghee

may sub unsalted butter

6

eggs

¼

cup

Labneh

at room temperature; store bought or homemade; may sub cream cheese

1

cup

kale

thick ribs removed, chopped and packed; may sub spinach or Swiss chard

1

tbsp

fresh dill

chopped and packed

2

tbsp

fresh chives

chopped and packed

kosher salt

to taste

freshly ground pepper

to taste
Instructions
Crack the eggs into a medium bowl, season with salt (about ¼ tsp), and beat well with a fork. Whisking your eggs creates air, which equals fluffy eggs!

Melt the butter in a large non-stick frying pan over medium-low heat. When the butter is melted and starting to foam, pour beaten eggs and labneh into the pan. Make sure your labneh is at room temperature so it will blend into the eggs more easily. Sometimes I pop a small bowl with the labneh in the microwave for 10 seconds before adding.

Using a silicone spatula, start to swirl the eggs in a circular motion until a few solid lumps begin to form. Once the eggs are roughly half solid and liquid, start to use long sweeping motions with the spatula to gently gather the egg together. Do not stir vigorously. The larger the clumps, the softer the eggs will be.

Add kale; stir minimally to combine.

When the eggs are almost completely solid but still looking a tad runny in places, remove the pan from the heat. The eggs will continue cooking a little more even after being removed from heat source.

Stir in fresh dill and chives. Taste, season with salt and pepper.

Serve hot! Enjoy straight up or alongside your favorite breakfast goodies. I chose to serve with sliced avocado; Middle Eastern Pickled Turnips; my husbands homemade bread; and a little EVOO and balsamic vinegar action.