This Thai-Style Pineapple Fried Rice is the closest I'm getting to Southeast Asia right now. You feel me?!
One thing I learned while traveling Southeast Asia was to skip the soy sauce when making Thai fried rice. Instead, they use a combination of oyster sauce and fish sauce; it's ohhhhh so delicious!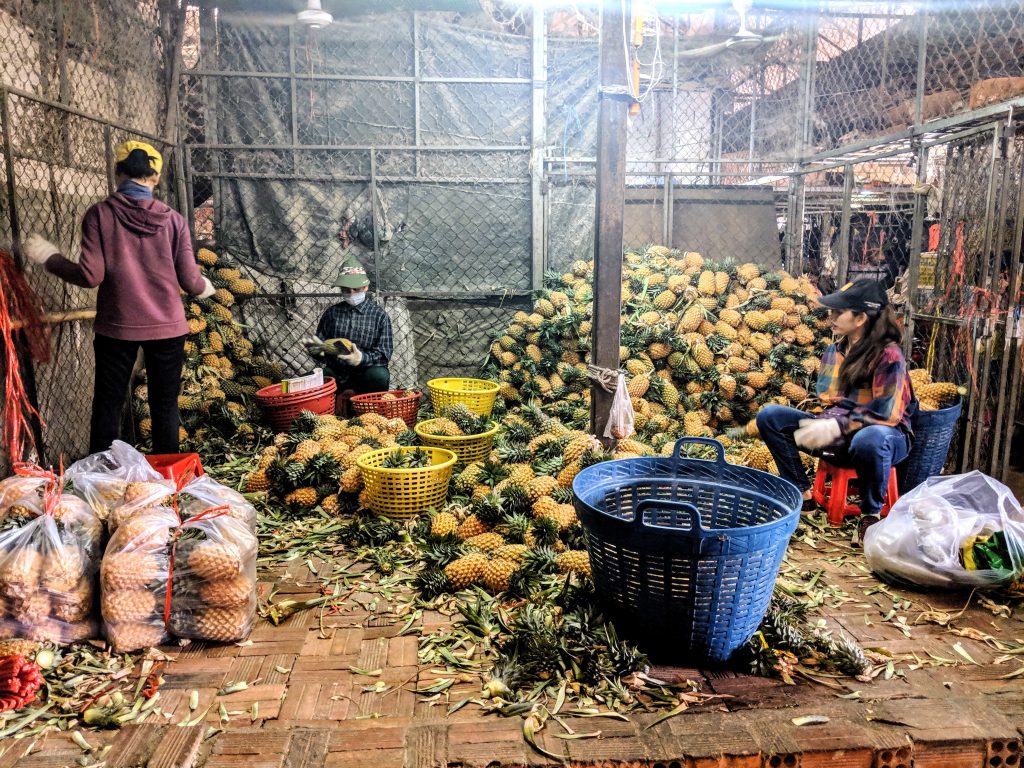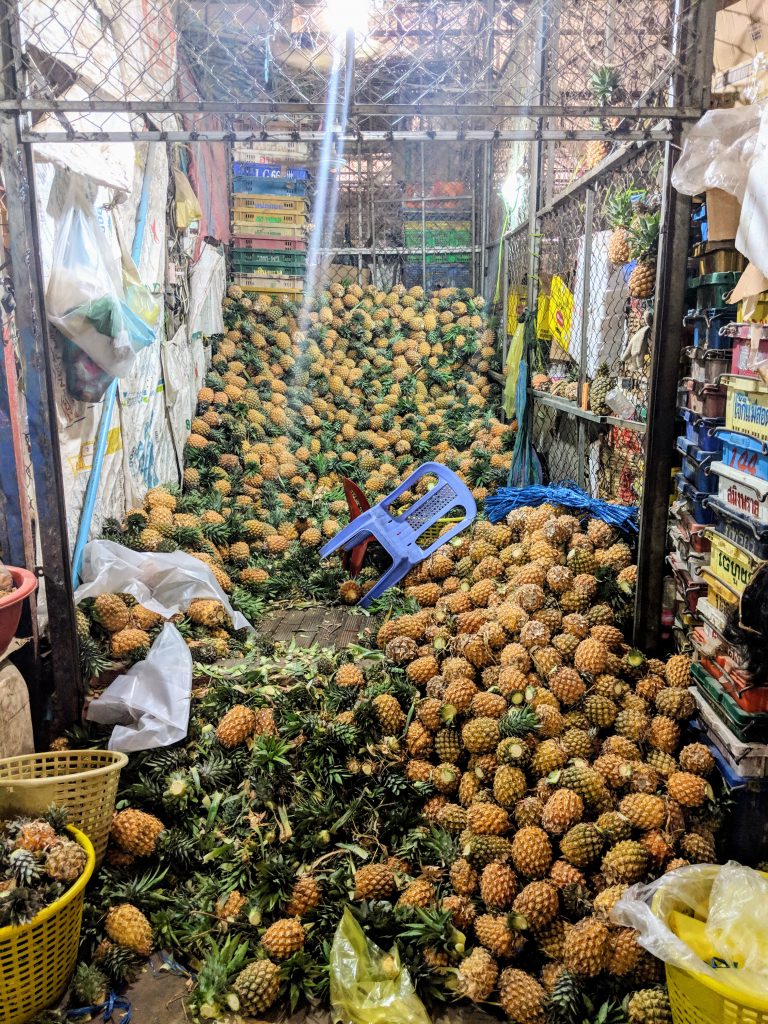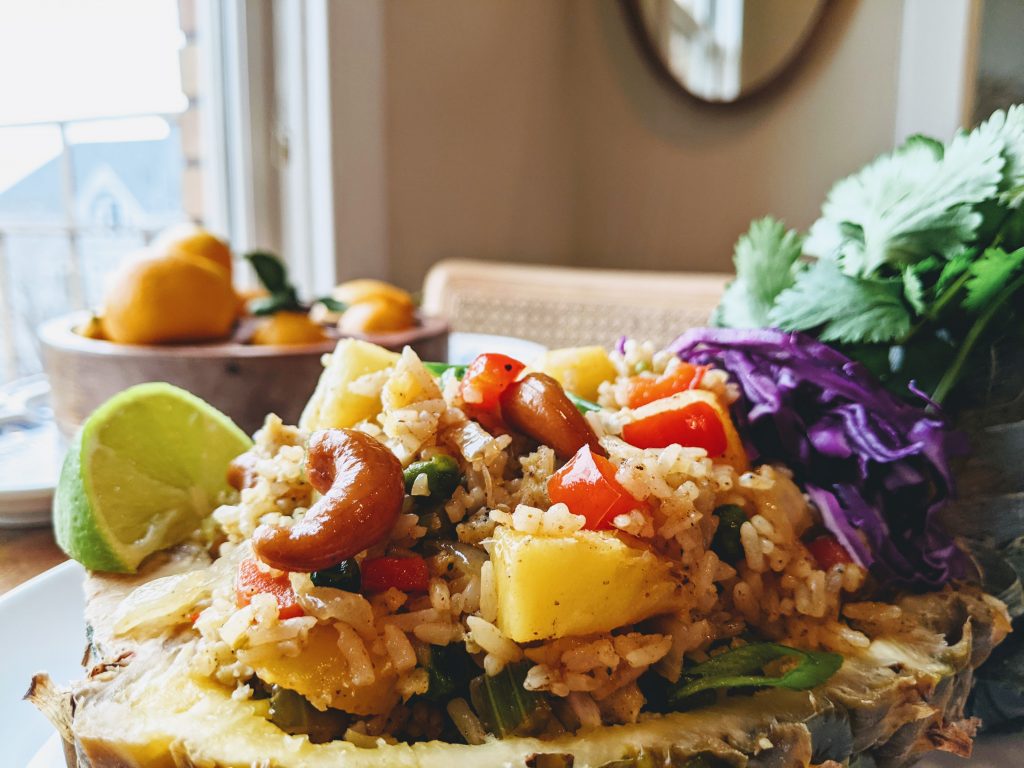 Day old refrigerated rice is best for making fried rice. If you use freshly cooked rice, you'll probably end up with a soggy and mushy finished product. Leaving the rice is the fridge overnight helps remove excess moisture and essentially, dry out the rice. So make some rice before bed, pop it in the fridge, and you're golden for the next day.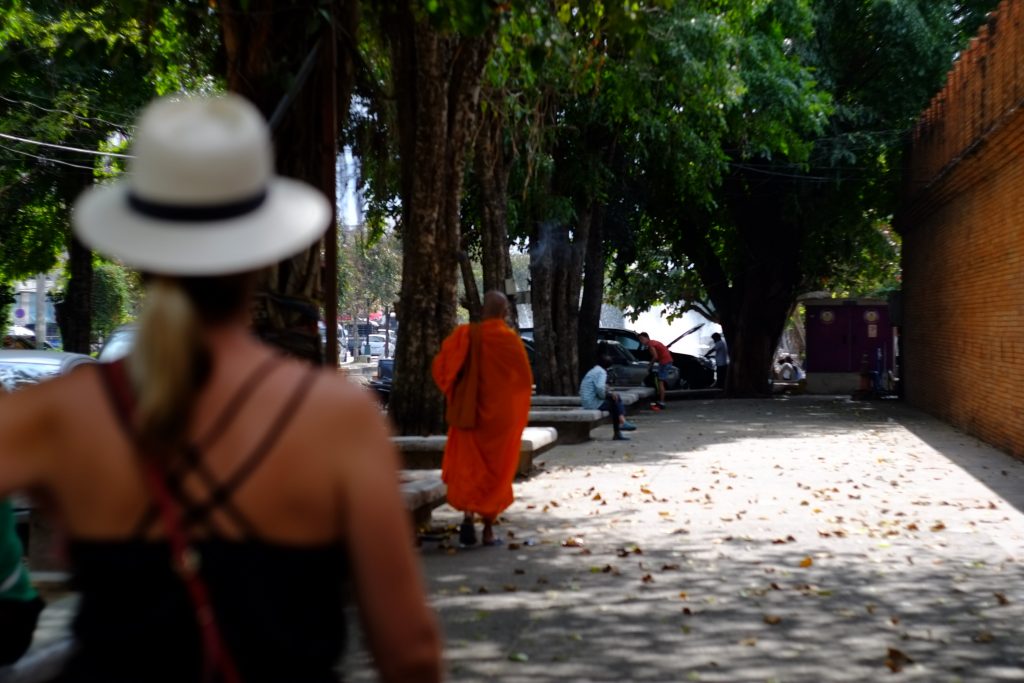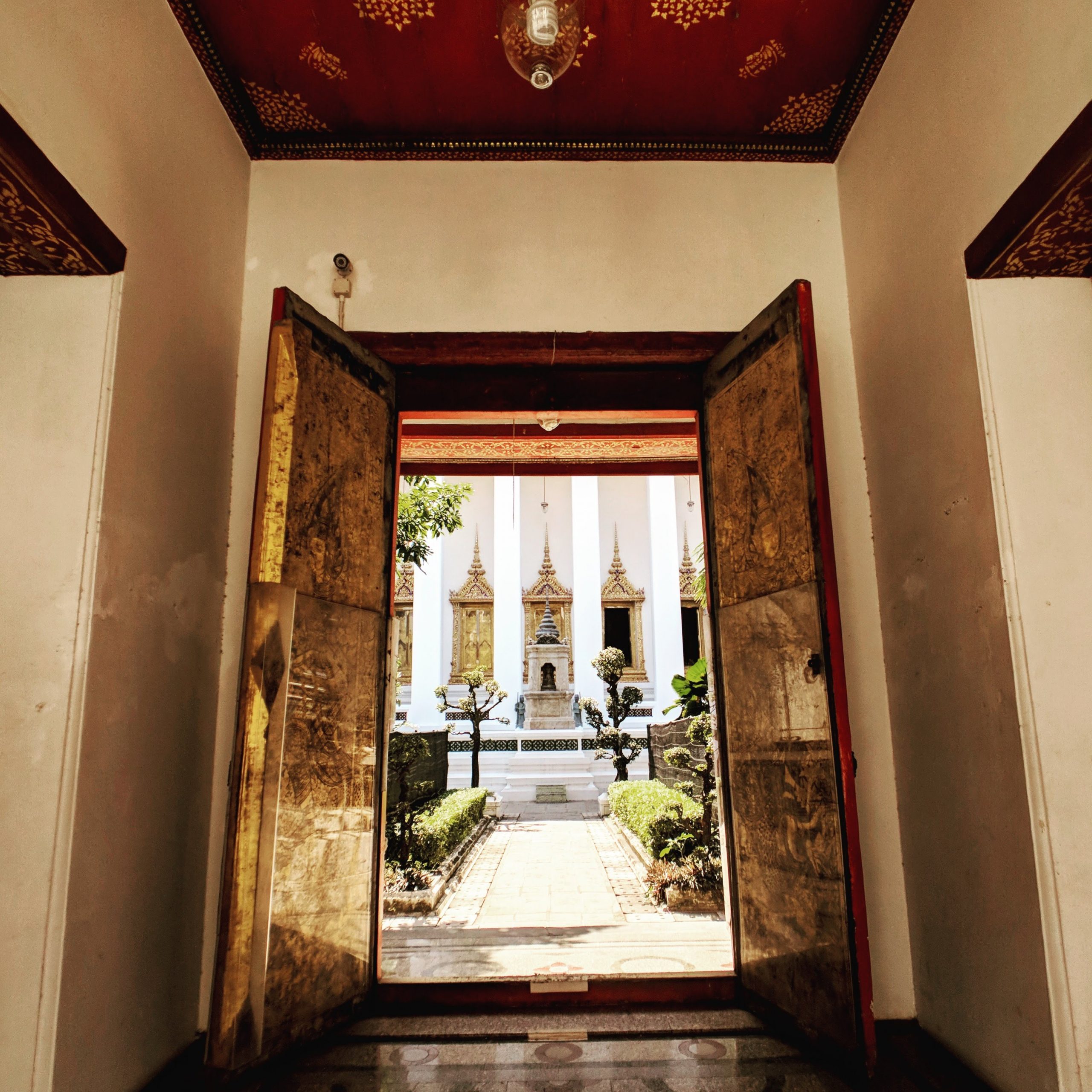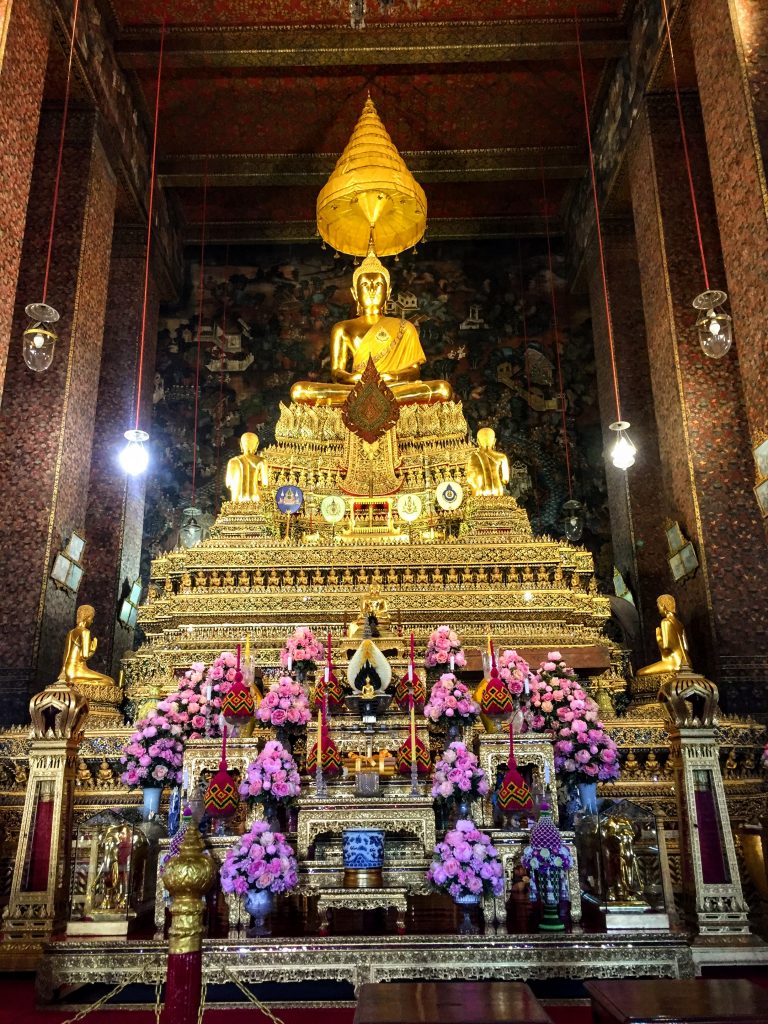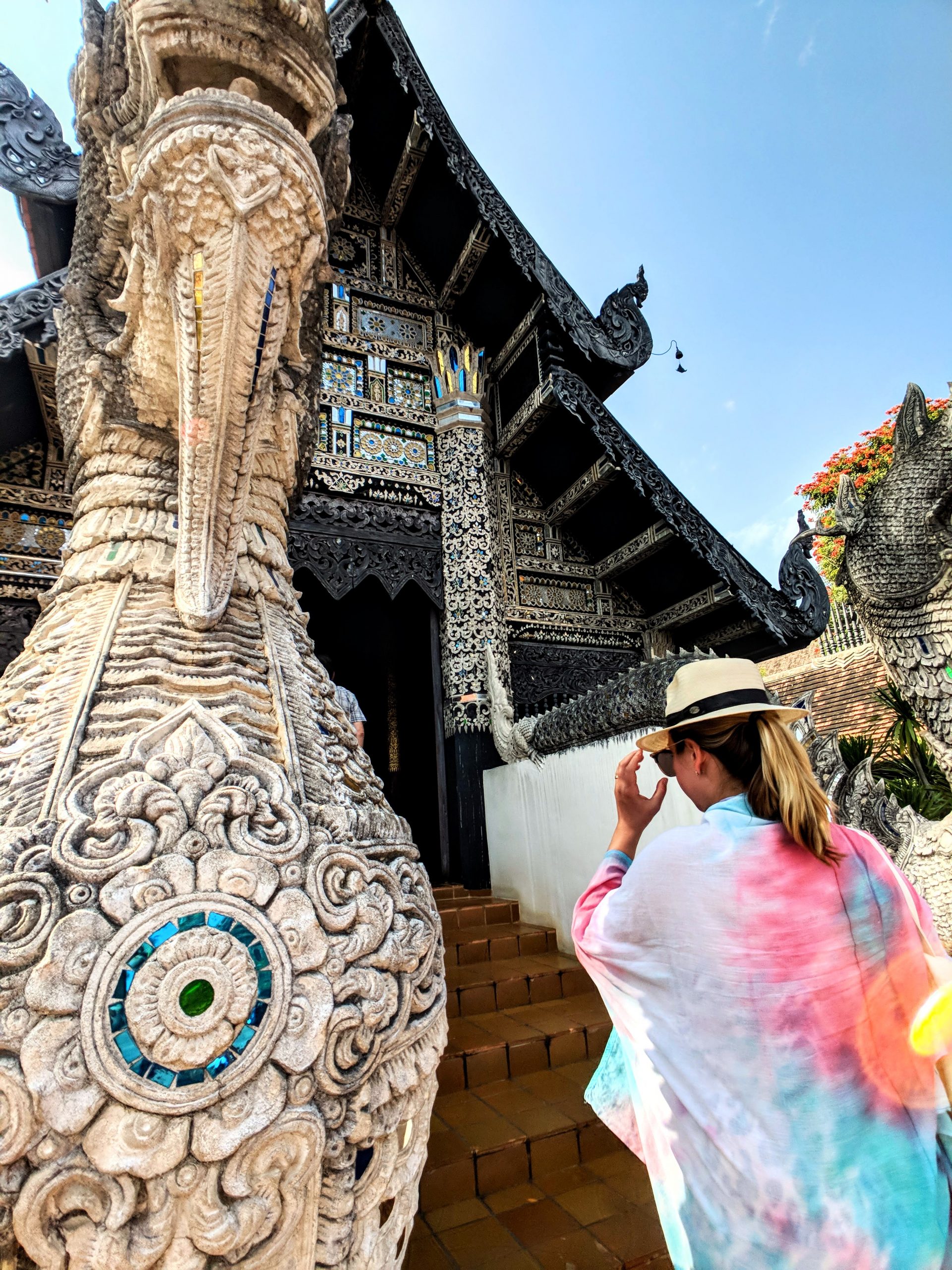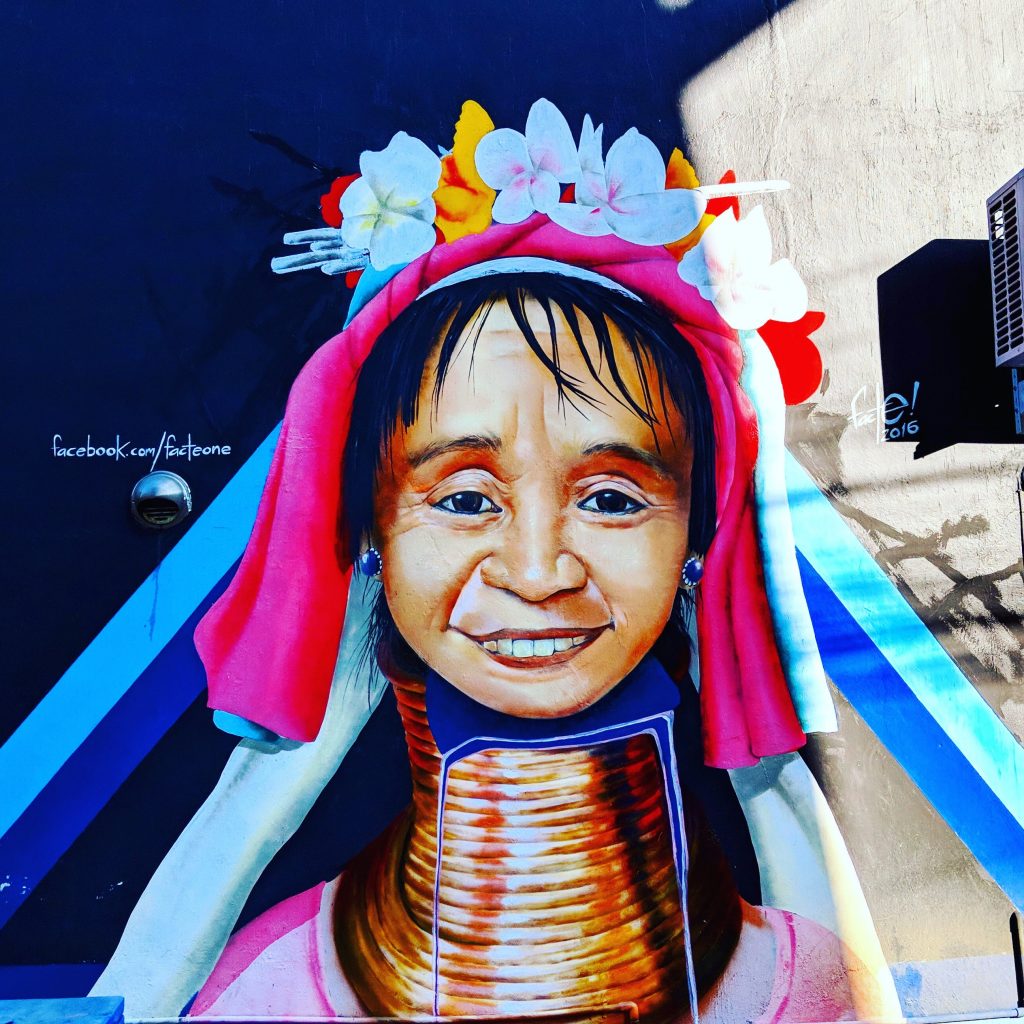 Because this dish is cooked at a high heat, avoid using olive oil to make this. You need to use an oil with a high smoke point, like peanut or vegetable.
Feel free to switch up the veggies, depending on your preferences or what you have on hand. Just try to keep the ratios in mind because you want the pineapple to be the star of the show. Makes sense right?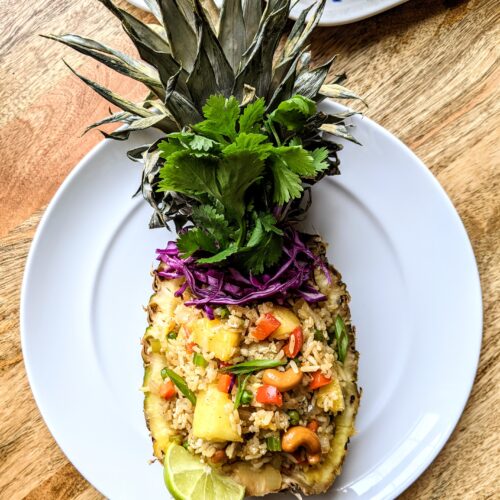 Thai-Style Pineapple Fried Rice
This Thai-Style Pineapple Fried Rice tastes exactly like the one you loved so much in Thailand! Pass on the soy sauce and add a little curry powder to make it the real deal. Serve it up in a pineapple to really do this dish justice!
Ingredients
2

tbsp

peanut oil

½

onion

diced

2

garlic cloves

smashed

1

tbsp

fresh ginger

1-2

Thai chilies

seeded and sliced (optional but use less)

1

tsp

curry masala powder

½

tsp

white pepper

may sub black but use 1/4 tsp

⅓

cup

celery

diced

⅓

cup

carrots

diced

⅓

cup

red pepper

diced

⅓

cup

frozen peas

thawed

1

cup

pineapple

diced

2

eggs

lightly beaten

3

cups

cooked jasmine rice

day-old refrigerated rice is best

2

tbsp

fish sauce

1 ½

tbsp

oyster sauce

½

tsp

sugar

4

scallions

white and green parts separated, sliced

¼

cup

roasted cashews

½

cup

purple cabbage

shredded and optional

¼

cup

fresh cilantro

for garnish

1

lime

wedges for garnish
Instructions
Heat oil in a large wok or skillet over medium-high heat.

Add onion and garlic, stir fry for 30 seconds. Add ginger, chilies, curry powder, and white pepper. Stir fry for another 30 seconds.

Add celery, carrot, red pepper, peas, pineapple, and white parts of green onions. Stir fry for 1 minute.

Push everything to one side of the wok and pour the eggs on the other side. Quickly scramble the eggs, 20-30 seconds.

Add rice, oyster sauce, fish sauce, and sugar. Stir fry for 2 minutes, adding the cashews and green parts of the onions halfway through, until the rice is coated in the sauce.

Serve it up right in the pineapple or on a plate. Garnish with cilantro and serve with lime wedges. I like to add some raw purple cabbage and mix it onto the rice as I eat it, because I like the crunchy texture. But you do you boo! This is just my personal preference.