Meaty portobello pizzas filled to the brim with your favorite toppings!
This recipe is vegetarian, gluten free, and hella simple to make! All that said, my favorite secret weapon to these Portobello Pizzas is that they're the epitome of adaptable! Whatever topping you love, do that! This recipe is incredibly forgiving and will work with whatever you (or your little ones) have planned!
HOW TO AVOID SOGGY MUSHROOMS:
Mushrooms release a ton of liquid when cooked, so placing them directly on the baking sheet will result is soggy mushrooms. Let's steer clear of that path, shall we?!
That's why using an oven-safe baking/cooling rack is oh-so-important! By placing the mushrooms on the wire rack, the mushroom juices will be able to drip without affecting the precious little pizzas!
SAUCE IDEAS:
VEGGIE IDEAS:
roasted red peppers
black or green olives
artichokes
jalapeño pepper
red or white onion
arugula
pineapple (sue me)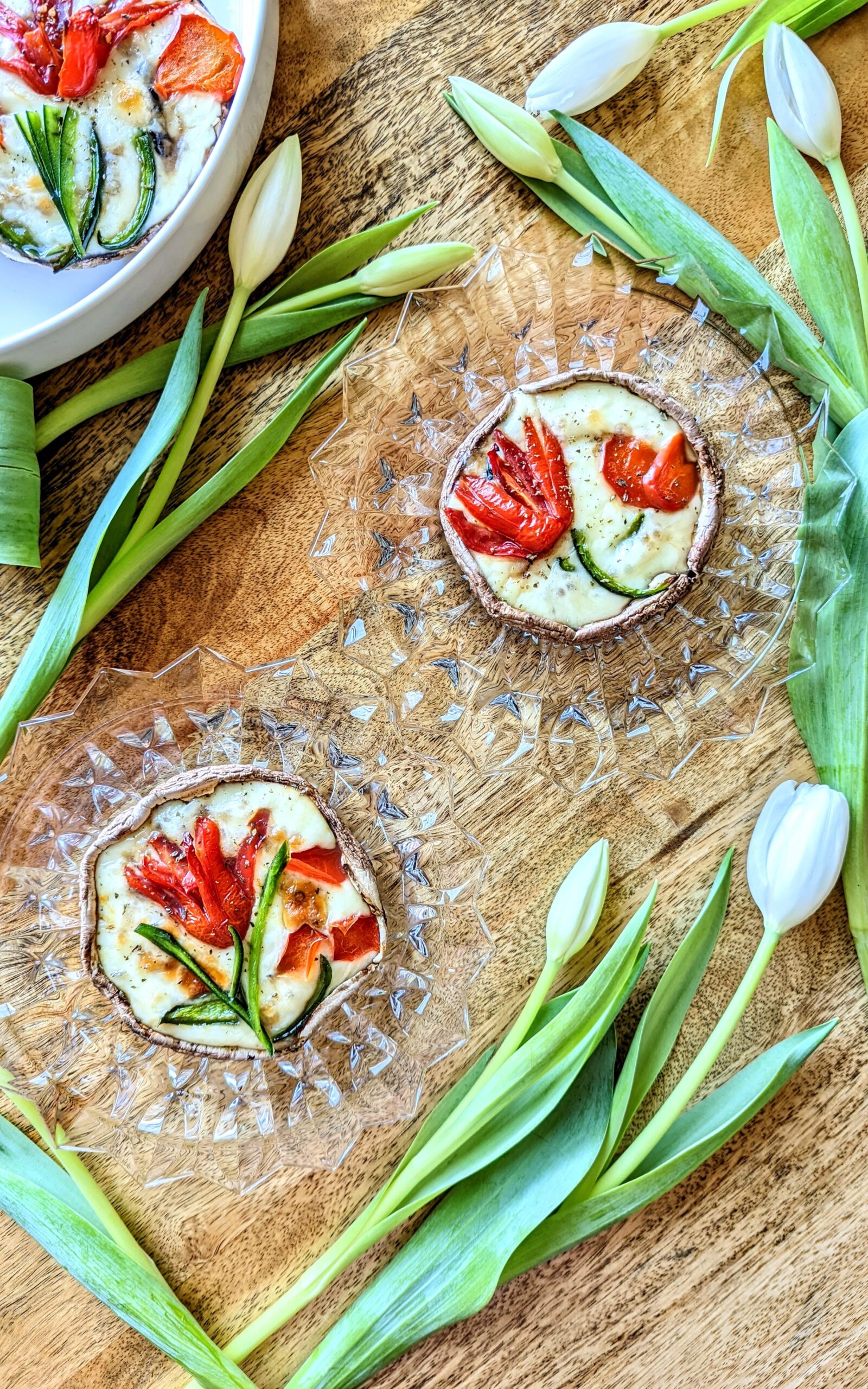 CHEESE:
provolone
Monterey Jack
havarti
goat cheese
ricotta
smoked mozzarella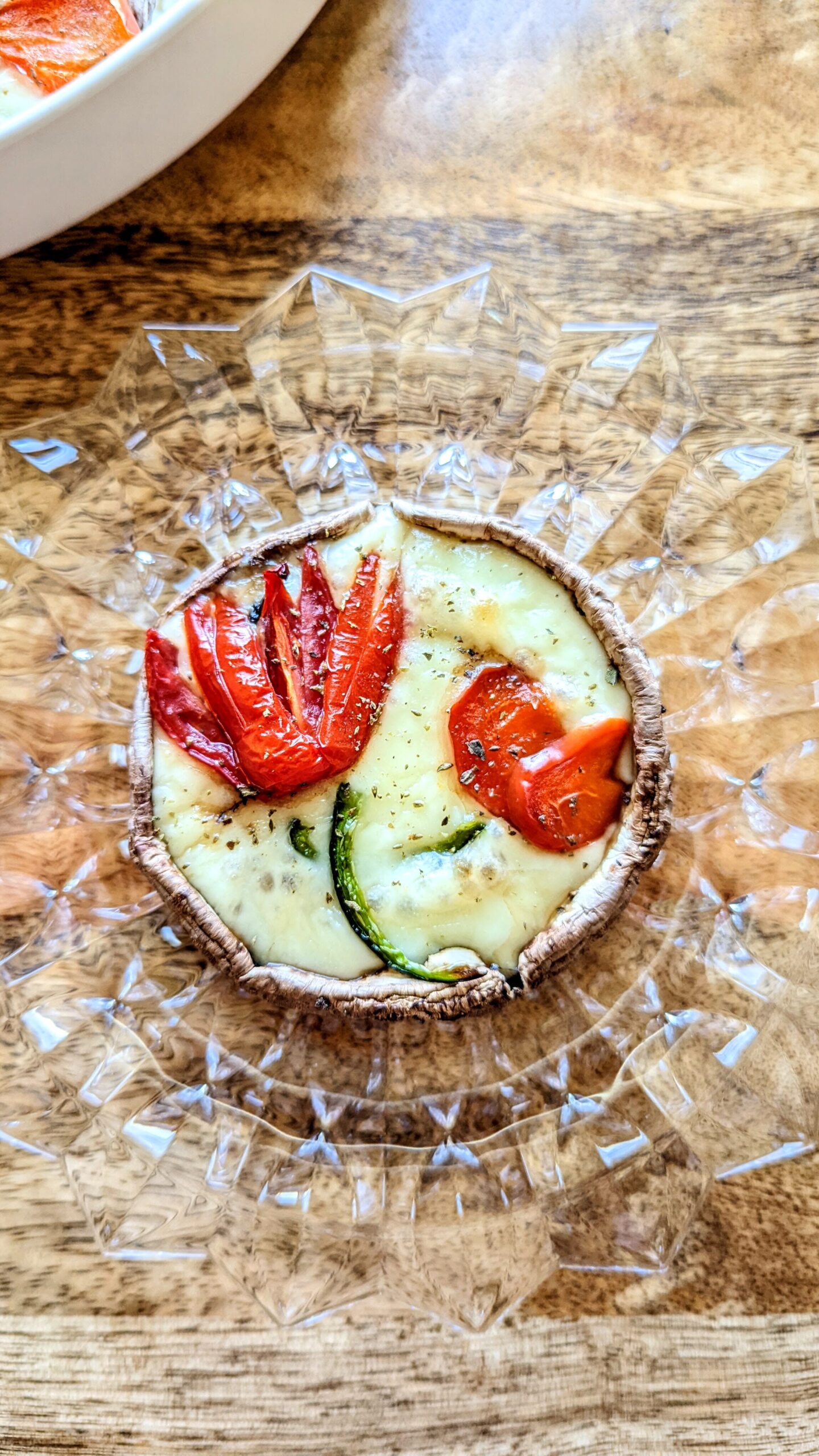 MEAT:
sweet Italian sausage
spicy Italian sausage
bacon
ham
pepperoni
salami
prosciutto
Portobello Pizzas
Meaty portobello mushrooms stuffed with our favorite pizza toppings: basil pesto; low-moisture mozzarella; tomatoes; and bell peppers. This recipe is the epitome of adaptable and can be enjoyed as either a main or a side.
Equipment
1 rimmed baking sheet

1 wire baking rack

1 paring knife

paper towel
Ingredients
4

Portobello mushrooms

large size

⅓

cup

basil pesto

homemade or store-bought

8

oz

mozzarella

low-moisture; cut into small cubes

1

tbsp

extra-virgin olive oil

4

small variety tomatoes

1 per "pizza"; sliced or cut into 6 slits lengthwise to make a flower

bell pepper

I used a couple slices of red and green to mimic flowers and stems

kosher salt

black pepper

balsamic glaze

homemade or store-bought; optional
Instructions
Preheat oven to 375°F. Set an oven-safe wire baking/cooling rack over a rimmed baking sheet. The wire rack is critical to avoid sogginess! Do not skip this step!

Carefully remove stems from the portobello mushrooms. Wipe the caps clean using a small piece of paper towel. It's not necessary to scrape off the gills (underside of the cap).

Place the portobello mushrooms on the wire rack top-side down and gills facing up.

In a medium bowl, mix together mozzarella cubes, extra-virgin olive oil, a pinch of salt, a few grinds of pepper, tomatoes, and bell peppers.If you're planning on making designs with the tomatoes and bell pepper, simply omit from the mixing bowl and place last before baking.

Spread a spoonful of pesto in each mushroom cap.

Divide the cheese and veggie mixture evenly among the mushrooms, gently pressing the mixture into each cap so it stays in place. 

Bake for 25 minutes, give or take a few minutes based on size of the mushrooms and amount of toppings. Cook until theres no more mushroom liquid dripping, cheese has melted, and starting to turn golden in places.

Garnish with a drizzle of balsamic glaze, fresh basil, or dried oregano (all optional). Serve immediately!
Notes
SAUCES:
VEGGIES:
roasted red peppers
black or green olives
artichokes
jalapeño pepper
red or white onion
arugula
pineapple (sue me)
 CHEESE:
provolone
Monterey Jack
havarti
goat cheese
ricotta
smoked mozzarella 
MEAT 
sweet Italian sausage
spicy Italian sausage
bacon
ham
pepperoni
salami
prosciutto